Feb 14, 2012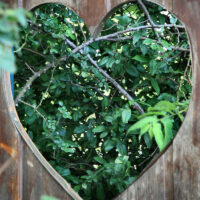 Dear Lord; Happy Valentine's Day Father!
Today Father, much of the world's attention turns to "all things love" as we celebrate Valentine's Day.  And yet, while the greeting card, candy and jewelry companies would like us to spend our time and money focusing on the romantic and tangible side of our affections, I choose instead to take this time to reflect on those aspects of love in my life that touch me most deeply:
The amazing, intimate bond I have with my wonderful wife, Shannon…
The powerful sense of care and commitment I have for my children…
The deep, very personal relationships I've established with a few close friends…
And the overwhelming, transformational and ever-deepening connection I have with my Lord and Savior.
Such wondrous examples of Your love for me Father; such astounding Blessings in my life.
Thank You Lord;
For seeding Your love in me,
For seeking me through my brokenness,
For reminding me that I'm Your Beloved Child,
And that above all else,
You love me; perfectly and completely.
I'm Yours Father.  🙂
Amen.
~Phather Phil
Pin It