Dec 18, 2013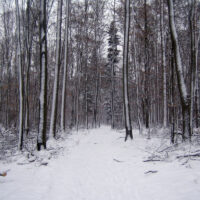 Dear Lord; Happy Wednesday Father!
Over the past couple weeks Father, I've been listening to and enjoying a sermon series called "Times and Seasons" preached by Steven Furtick, the lead pastor over at Elevation Church.  It's been a powerful series for me so far Lord, and has touched on some areas of my life that are very raw right this moment.  This morning as I pondered the most recent message I'd listened to, You placed on my heart a guest post I wrote for Healthy Spirituality a couple years back.  I chased down the document containing the post, and as I reread the words You'd given me during a very different season of my life it dawned on me that even now, Your Promise still holds true…
The Promise
Stark…
Cold…
Bleak…
Unyielding…
Such is the way many choose to view the winter landscape.
And yet,
I believe that winter carries with it a deeper message;
A Promise from God.
I absolutely love taking long, quiet walks in the woods; spending that communion time with my Heavenly Father, surrounded in the majesty of His bounty.  In that Stillness, I find that I feel powerfully connected to God's presence, and He's used those moments of intimacy to bring me some wonderful revelations.
I try to visit our local forest as often as possible, even during the "less comfortable" seasons.  Seeing the many transitions and phases of God's creation never fails to unveil new truths to me, and whatever the conditions are I always come away feeling Blessed for my time there…
Even in the dead of winter.
Hmmm… The "dead" of winter…
Not a very accurate description in my opinion.
I actually enjoy walking through the woods in the winter months.  Strolling among the leafless timbers, the barren landscape lies in stark contrast to the lush foliage that normally fills the scene.  And yet, while first impressions are that all life has left this place, nothing could be further from the truth…
Life still resides here…
Waiting…
Promising to burst forth and begin anew with the breath of spring…
Just as God designed it to.
And Funny enough, He designed our lives that way as well.  Like that forest, our paths are bound to the seasons God lays out for us…
"For everything there is a season, and a time for every matter under heaven:
a time to be born, and a time to die;
a time to plant, and a time to pluck up what is planted;
a time to kill, and a time to heal;
a time to break down, and a time to build up;
a time to weep, and a time to laugh;
a time to mourn, and a time to dance;
a time to cast away stones, and a time to gather stones together;
a time to embrace, and a time to refrain from embracing;
a time to seek, and a time to lose;
a time to keep, and a time to cast away;
a time to tear, and a time to sew;
a time to keep silence, and a time to speak;
a time to love, and a time to hate;
a time for war, and a time for peace." – Ecclesiastes 3:1-8 (ESV)
Times of abundance, and periods of trial; both are gifts from God.  We celebrate those moments when His Blessings shine brightly all around us, and yet those times of wanting are also cause to rejoice…
When instead of dwelling on our pain,
We give thanks for His promise;
The promise that it is in fact, a season,
And that in the "dead" of our Winters, there is still life,
And there is still love.
Thank You for our Winters Lord, and Your promise of the Springs ahead.
Amen.
~Phather Phil
Pin It