Feb 15, 2011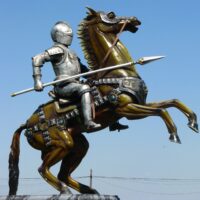 Dear Lord; Good morning Father.  For the last day or so Lord, I've had a Bible verse on my heart.  It's always been one of my favorites, but I'm feeling like I should be paying particular attention to it at the moment; That somehow it's important that I keep it at the front of my mind.  The verse is from the Book of Joshua :
"Have I not commanded you? Be strong and courageous. Do not be afraid; do not be discouraged, for the LORD your God will be with you wherever you go." – Joshua 1:9 (NIV)
Now, I'll admit to having been discouraged about a number of things as of late so maybe that's the key here, but I just feel there's more to it than that.  I went back this morning and reread Joshua 1 in it's entirety to put the verse in full context, and found another passage that set off bells in my head as well :
"Be strong and very courageous. Be careful to obey all the law my servant Moses gave you; do not turn from it to the right or to the left, that you may be successful wherever you go." – Joshua 1:7 (NIV)
This immediately clicked with a blog posting I read last night on the website "A Mile in My Schu's" about how we can get "Off Course" from our path to You.  I always find it fascinating how when You need to get a point across to me, I seem to see it repeated and led to in so many places.
Ok Father, I get that this verse is important for me at the moment.  It's certainly a positive message, and one I try to remember when my life heads in uncertain directions.  However I still feel there's more behind Your insistence to me to focus on this missive than I'm seeing right now.
For example, these verses both enforce the command to "Be strong and courageous"… Hmmm, have I been that lately?  If I'm honest with myself Lord, probably not so much as I should be.  There's so much to contemplate and pray about here…
Heavenly Father, thank You for Your constant Presence and Guidance in my life.  Please give me the clarity and focus to serve Your Will as You intend me to, and to see through my own flaws so I can focus on Your Glory.  Amen.
~Phather Phil