Aug 20, 2013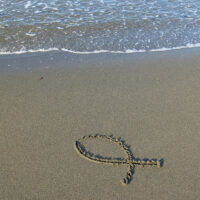 Dear Lord; Happy Tuesday Father!
You know Lord, it's a vicious circle we face.
Storms erupt around us in our lives; casting the shadow of doubt upon our hearts and threatening to draw our focus from the peace You freely offer.  We allow fear to gain hold, and from there we proceed not from faith but instead become driven by our false perception that for some reason, You're not interested in our current plight.
Eventually, the waters recede as they always do and in our illuminated hindsight we realize that once again You've led us through… Unshaken by our circumstances, and unwavering in Your love.
Yesterday as I pondered this recurring tendency to doubt that we all seem to have, You placed in my heart a reminder that we're in good company…
"As evening came, Jesus said to his disciples, "Let's cross to the other side of the lake." So they took Jesus in the boat and started out, leaving the crowds behind (although other boats followed). But soon a fierce storm came up. High waves were breaking into the boat, and it began to fill with water.

Jesus was sleeping at the back of the boat with his head on a cushion. The disciples woke him up, shouting, "Teacher, don't you care that we're going to drown?"

When Jesus woke up, he rebuked the wind and said to the waves, "Silence! Be still!" Suddenly the wind stopped, and there was a great calm. Then he asked them, "Why are you afraid? Do you still have no faith?"

The disciples were absolutely terrified. "Who is this man?" they asked each other. "Even the wind and waves obey him!"" – Mark 4:35-41 (NLT)
Now these were men Lord, that had personally witnessed You performing miracles and seen firsthand Your divine Love at work…
But still they doubted.
And over the course of my life Father I've seen Your hand in so many places, and experienced Your love in so many beautiful ways…
And yet, I also allow those doubts to cloud my heart.
Thankfully Lord,
You remain unshaken by our fears…
Unwavering in Your devotion…
And stalwart in Your love for us.
So when the storms rage about us and our hearts feel that grip Lord, I pray You help us see beyond those crashing waves; resolute in the knowledge that You're in that boat with us and that soon we'll once again be able to state…
"And there was a great calm…"
For it's in Your precious name I pray Jesus,
Amen.
~Phather Phil
Pin It