Jan 22, 2013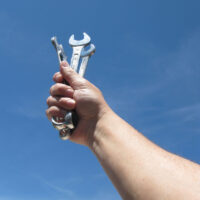 Dear Lord; Happy Tuesday Father!
You know Father, all my life I've seen myself as a problem-solver; a "fixer" of things if You will.  Cars, electronics, furniture… You name it, I've repaired it.  In fact, over the years I've taken great pride in being seen by others as someone who can deal with anything that's thrown at them.  There's only one real problem with projecting that image though…
It's an illusion.
In the end Lord, I'm at least as broken as those items I repair and yet…
I can't fix myself.
Those I love and care for are hurting too Father; physically, emotionally and even spiritually…
But I can't fix them either.
And in the course of my day Lord, I connect with so many people in true need of help; some battling addictions, some struggling financially, and others that are trying desperately to cope with feelings of despair…
And while I try to offer what assistance I can Father, I know I can't patch all the holes in their hearts.
Thankfully though, I have a Savior who can.
Gracious Lord…
The Great Physician and Healer…
Our Ultimate "Fixer".
Through You Lord Jesus, all can be made whole.
Please help me Father…
To cast aside all illusion of control and submit my heart to You in entirety…
To be Your instrument of aid when called to do so, while recognizing my limitations and yielding those "repairs" to the One who has none…
And to accept and reveal the unparalleled peace and joy You so willingly offer to those around me.
For it's in Your Holy Name I pray,
Amen.
~Phather Phil
Pin It