Dec 8, 2011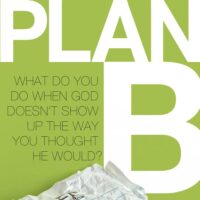 Dear Lord; Happy Thankful Thursday Father!
As You know Father, for the past several weeks our Tuesday night study group has been working through a DVD Book Study based on Pastor Pete Wilson's book : "Plan B: What do you do when God doesn't show up the way you thought He would".  I'd read the book earlier this year and very much enjoyed it, so when the time came to choose a new study, I was quite pleased that everyone agreed to pursue "Plan B".  As of this week, we've completed three sessions of the study and so far it's been an inspiring and encouraging examination of how even in the midst of seemingly hopeless situations, You perform some of Your most powerful work in us.
As I was thinking today on some of the things we've been discussing in the group these past few weeks, it dawned on me that Christmas itself is the celebration of Mary and Joseph's "Plan B".  Before being visited by the Angel Gabriel, Mary's life was proceeding along a fairly normal path.  She'd become betrothed to a man named Joseph, and was very likely planning for her role as his wife, and the future mother of their children.
And in a moment, her world turned upside down…
And our world was forever changed.
Her "Plan B" was Your "Plan A".
This hammers home a very important point Father; in the midst of those situations where our lives seem to be flying desperately off course, You're not shaken or confused.  What we view as turmoil, You see as opportunity…
May we all seize those opportunities Father; embracing the understanding that our "Plan B" moments, were Your "Plan A"s all along.  🙂
And now Lord, on to this week's Thankful Thursday list!  This past week has been simply overflowing with Your Blessings Father, but I'd like to give special thanks for:
421. Having friends that pray for me.
422. Getting to spend much of the day Saturday cooking for family and friends.
423. A quick healing for the eye I scratched.
424. Some helpful advice from a friend that helped get the Jaguar running again.
425. New glasses for Jonathan.
426. That the Rimadyl is making an obvious improvement in Brandy's pain level.
427. Having friends that can tell when I'm having a rough time, and pushing through my "wall".
428. A quiet walk in Blackbird State Forest with Jonathan last Sunday.
429. That even though I fall short in so many ways, You know my heart and guide me ahead.
430. Candy Cane Hershey's Kisses.
431. Real kisses from my loving wife.
432. The Kids Construction Workshops at Home Depot.
433. Seeing my children reach out with giving hearts.
434. Knowing that I'm Your Beloved Child.
435. Having a full collection of inspiring Christmas Music to play on my iPod during the day.
And so much more Lord.
Heavenly Father,
We thank You Lord, for the many Blessings you bestow on us each day; both those that announce Your presence like sirens in the night, and those that grace our lives in Stillness.
In Jesus' Name we pray,
Amen.
~Phather Phil
Pin It