Nov 28, 2011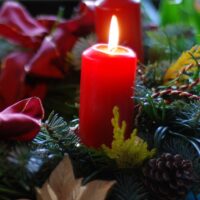 Dear Lord; Happy Meditations Monday Father!
Well Father, the long Thanksgiving weekend has come to a close and once again we find ourselves in the grip of another workweek.  And while I'm sorry to see that celebration of gratitude pass, my heart is already embracing the beginning of the Season of Advent.  It's a wondrously exciting time of year Lord, filled with a spark of anticipation as we celebrate the miraculous birth of our Savior, and at the same time eagerly long for His return.
This past Sunday, my family and I were Blessed to have the opportunity to light the first candle on the Advent Wreath at Ewell's St. Paul UMC.  Along with the lighting ceremony, Shannon and the boys recited some devotional statements, and I read to the congregation from the Gospel of Luke:
"In the sixth month the angel Gabriel was sent from God to a city of Galilee named Nazareth, to a virgin betrothed to a man whose name was Joseph, of the house of David. And the virgin's name was Mary. And he came to her and said, "Greetings, O favored one, the Lord is with you!" But she was greatly troubled at the saying, and tried to discern what sort of greeting this might be. And the angel said to her, "Do not be afraid, Mary, for you have found favor with God. And behold, you will conceive in your womb and bear a son, and you shall call his name Jesus. He will be great and will be called the Son of the Most High. And the Lord God will give to him the throne of his father David, and he will reign over the house of Jacob forever, and of his kingdom there will be no end."

And Mary said to the angel, "How will this be, since I am a virgin?"

And the angel answered her, "The Holy Spirit will come upon you, and the power of the Most High will overshadow you; therefore the child to be born will be called holy—the Son of God. And behold, your relative Elizabeth in her old age has also conceived a son, and this is the sixth month with her who was called barren. For nothing will be impossible with God." And Mary said, "Behold, I am the servant of the Lord; let it be to me according to your word." And the angel departed from her." – Luke 1:26-38 (ESV)
Such a powerful, pivotal moment this passage describes.  Approached by an Angel, and told that her virginal womb was to bear the Son of God, Mary handles this overwhelming news in a truly amazing way; with humility and obedience.
Here she was; betrothed to be married, maintaining her virginity prior to that marriage, and in the midst of her carefully laid plans an Angelic visit turned her world completely upside-down:
She didn't know how Joseph would take the news…
She didn't know how society would treat her…
She didn't have a clue why You had chosen her for this…
And yet, even beneath that mountain of uncertainty, she placed all of her fears and doubts aside and affirmed her commitment to You Father:
"Behold, I am the servant of the Lord; let it be to me according to your word."
Such a commanding statement of faith Lord… And the beginning of a transformational journey.
Heavenly Father,
As we begin this Season of Advent Lord, please open our hearts to embrace the spirit of wonder and anticipation this holy time imbues.  Guide us Father, to not only revel in the glory of this Season, but to take a cue from Mary's example, and always place Your path above our own.
In Jesus' Name we pray,
Amen.
~Phather Phil
Pin It