Nov 8, 2011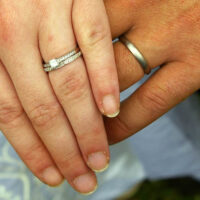 Dear Lord; Happy Tuesday Father!
You know Father, with the multitude of Blessings You surround me with each day, I find it both fascinating and wonderful that when I allow my thoughts to drift and ponder those many gifts, my wife Shannon's face is always the brightest star in the sky.  Of course Lord, I'm by no means discounting the other miracles You've placed into my life, but the longer that she and I are together and the more we go through, the more I realize that Your intentions for marriage are truly foundational.
And although I would never presume to comprehend Your scope on the subject Father, over the time that I've been married to Shannon I do believe I've come to understand some of the fundamental reasons why You've brought us together…
You desire that we should have intimate companionship.
Although obviously sex is a piece of this Lord, it's not entirely to what I'm referring.  We're Blessed with many relationships throughout our lives, but when we honor the divine nature of marriage by nourishing, encouraging and sharing completely with one another, it provides an amazingly deep, intimate connection that only You could have designed.
Marriage confronts us with the fact that we're generally self-centered beings by nature, and helps us learn to place others first.
Our flesh wants.  It's that simple.  From the first minute we become aware of ourselves, we're driven by our earthly shells to seek gratification in the basic and flawed attempt to find happiness.  In many ways, it's the ultimate paradox; to find the peace and contentment that a relationship with Jesus offers, we must first learn to see past our selfish natures and give of ourselves with a joyous heart.  In the same respect, for our marriages to live and thrive we need to learn to place our spouse, and our union, ahead of ourselves.
By joining us together as man and wife, You draw us closer to You through that union.
When we're brought together through the union of marriage, we're in fact taking on a third member of the family… You, Lord.  Through Your ordainment of a couple's commitment to one another, You connect through that Blessing in an amazingly powerful way.  While it's obviously important for each of us to seek and nourish a personal relationship with You Father, it's no less important to cultivate and maintain a deep connection with You as a married couple.  By keeping You as an integral part of our marriages, we bring ourselves closer to one another in the process.
"And though a man might prevail against one who is alone, two will withstand him—a threefold cord is not quickly broken." – Ecclesiastes 4:12 (ESV)
Heavenly Father,
Through the gift of marriage Lord, You draw us together in example of Your love for us.  Please help strengthen our commitment to one another, and to glorifying You through our nourishing of this holy union.
In Jesus' Name we pray,
Amen.
~Phather Phil
Pin It