Nov 7, 2011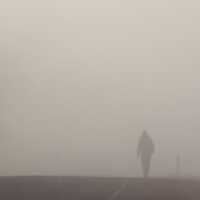 Dear Lord; Happy Meditations Monday Father!
Good morning Father!  To begin the week's conversations Lord, I want to first thank You for the many Blessings You graced me with this past weekend.  Although I spent much of the past few days resting in an attempt to fend off the nasty respiratory illness I picked up last week, Your influence was obvious nonetheless.  During that unusual bout of "down time", I was able to spend a good bit of quiet time with Jonathan and Aidan, made some progress on the redesign of Ewell's St. Paul's web site, and even managed to get out with Shannon for a little bit as well.  And while I'm still not completely recovered from this invasive little bug Father, I want to thank You for Your comforting, soothing and healing presence while my body holds the line against these invaders.  You are truly ever-faithful Lord, and I thank You for remaining by my side no matter the circumstances.
Driving in to work this morning, I was confronted with something I seldom run into in this area; pea-soup thick fog.  Now, we certainly get our share of morning "mist" around here, but this was some of the heaviest fog I believe I've ever seen in central Delaware.  Visibility was minimal, with only a 30 foot-or-so view in front of the truck before the milky haze completely enveloped the road ahead.  Nervously gripping the wheel, I slowed from my usual morning pace, peering cautiously into the haze as I drove.  I was anxious, and the trip to work seemed to go on for ages.
Then I realized… This reminds me of my life before I knew You Father.
I was anxious, cautious, and fearful…
Quite often I felt cut off, and alone…
The roadblocks and detours in my life often left me feeling insecure and vulnerable…
Every "bump in the road" became amplified, at the thought of the chasm that may lie beneath.
I lived one day at a time, never knowing what lay ahead of me…
And then Lord, You lifted my fog from me.
"Again Jesus spoke to them, saying, "I am the light of the world. Whoever follows me will not walk in darkness, but will have the light of life."" – John 8:12 (ESV)
Your Light cut through all that haze Father, and changed my journey in so many ways.
My fears are now opportunities for hope…
I know that no matter where I am or what I'm doing, I'm never alone…
While I still have quite a few struggles and trials in my life, I know that You desire what's best for me, and that You'll guide me down the best path…
"bumps in the road" are exactly that, and are given no more importance that they're due…
Following Your light Lord, I know exactly where I'm headed. 🙂
Heavenly Father,
As we begin our week together Lord, I lift to You my thanks and praise for all You bring to our lives each day.  Please continue to light the path through the fog that shrouds our earthly journeys, diligently searching us out as the mists of this world threaten to engulf us.  Guide us down that path Lord, and lead us home.
In Jesus' Name we pray,
Amen.
~Phather Phil
Pin It