Oct 31, 2011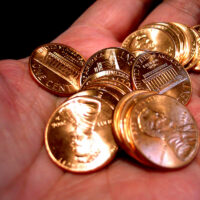 Dear Lord; Happy Meditations Monday Father!
This weekend Father, I think you may have left the freezer door open a bit… 🙂
It was downright cold here in Delaware the last couple days!  This time of year, we're usually hovering in the mid-to-high 50s, but the last two days we saw the mercury dip into the high 20s more than once.  Add to that some rain/sleet mix Saturday night, and it was a wonderful weekend to spend inside, all warm and toasty…
Although, we didn't.
Saturday evening, we braved the wintry weather and joined a group of our friends for a "haunted trail" event that one of the families had constructed on their 50 acre farm.  In the rain, sleet and the muck they carted the kids around on a tractor-driven hayride through a mile-long wooded trail filled with "things that go bump in the night".  We were cold, we were wet, we were muddy, and we had an absolutely wonderful evening.  🙂
Sunday morning, as usual, we attended the contemporary worship service at Ewell's St. Paul UMC, where I was Blessed to be asked to participate in the service.  I read passages from both 1st Kings and Malachi, and then delivered a testimony on my thoughts about financial giving and stewardship.  When I was first asked by Pastor Kris to address the congregation on this, I spent a good bit of time thinking and talking with You about exactly how I wanted to make my feelings and beliefs known, and in the end I was pretty pleased with what You and I came up with.
Therefore Father, for this morning's Meditations Monday, I'd like to share that testimony:
Good morning.
In a few moments, we'll have the opportunity to exercise our financial stewardship role, and provide our offerings to the church.  Before we do though, Pastor Kris has asked me to share my thoughts on giving with you.
As you know, Shannon and I are relatively new to the congregation, and we've been exceptionally thankful for the outpouring of fellowship, kindness, and acceptance we've received since we began attending services here.
Before finding our home here at Ewell's, it had been quite a few years since we'd attended church regularly, so the thought of giving financially really was one that we hadn't considered in great detail.  Once God had placed in our hearts that we'd found our family here however, supporting that family and it's endeavors became an important consideration for us.
Like many of you, the economic turmoil has taken a heavy toll on our family the last couple of years.  More than a few months we've barely scraped by, wondering how we're going to make ends meet.  So when we first started placing funds aside each week for the offering, we felt that pinch even more so.
And yet, I can honestly say that we feel richer today than we ever have before.
We give joyfully; and find that when we do, Christ fills our hearts even more so.  The knowledge that we're supporting God's works through our gifts is a powerful motivation, and exactly what Jesus led us to do.  We're called to be stewards of God's gifts to us; to use those Blessings in our lives to further His work here on earth.  And yet, as we give these offerings in His Name, we're also building true wealth in a place where stock market crashes, the IRS, and the credit card companies simply can't get to it.
In Matthew Chapter 6, Jesus made it very clear where we're meant to do our "banking".  He said:
"Do not lay up for yourselves treasures on earth, where moth and rust destroy and where thieves break in and steal, but lay up for yourselves treasures in heaven, where neither moth nor rust destroys and where thieves do not break in and steal. For where your treasure is, there your heart will be also." (v.19-21)
As we give of ourselves, we're making deposits into the one account that's truly eternal, and in the process we're sharing our Blessings with others through the outreach and programs the church sponsors. 
The Bible says God made us in His own image.  Therefore, by design, we're created to be givers.  So as we make our gifts today, it's important to remember that when we give of ourselves, we're actually doing exactly what we're intended to do.  By sharing the financial Blessings God has lovingly and graciously bestowed on us, we're also fulfilling one of God's primary desires for our lives; to reach out in His Name, and use His gifts to Bless others.
I very much appreciate the opportunity we've been given through the church to share our Blessings with others, and for being a part of such a wonderful, giving family here at Ewell's.
Thank you all so very much, and God Bless.
Heavenly Father,
I thank You Lord, for another wonderful weekend spent in the company of my family, good friends, and our church family.  As we begin the week, please place in our hearts a renewed sense of giving; reaching out and sharing our many Blessings with others as Christ's example showed us to do.  Lead us in service Father, that we may glorify Your Name in our decisions, our words and our actions.
In Jesus' Name we pray,
Amen.
~Phather Phil
Pin It