Oct 12, 2011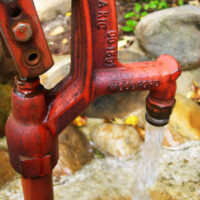 Dear Lord; Happy Wednesday Father!
To begin with Lord, I want to thank You for this morning's time together.  As I explained in yesterday's post, I've been feeling convicted as of late that I wasn't spending adequate "still" time in Your presence.  Following Jesus' example in Mark 1:35, I got up a good bit earlier than usual this morning, and spent that time quietly absorbed in Your Word.  It was a wonderfully refreshing way to launch the day, and will be my "new normal" going forward.
Last night Father, we were Blessed to host the first of six gatherings to go through a Small Group Study called "Treasures of the Transformed Life: Satisfying Your Soul's Thirst for More".  It was a wonderful group of people, and while our children played happily together we spent the evening in fellowship and exploration of Your desire to bring us closer to You.
The message title for this week was "Priming the Pump".  In a nutshell, the author of the study teaches that in order to satisfy our thirst for Your presence in our lives, we need to first "prime the pump" before Your Living Waters will begin to flow.  We do that by making a genuine and real commitment to seeking You; deliberately putting Your desires for us first, and allowing You to guide our lives along Your path.  As part of that commitment, he emphasized the need to determine our role in the Body of Christ, and to step out in faith, working together with others to accomplish Your work on earth.
"Commit your way to the Lord;
trust in him, and he will act.
He will bring forth your righteousness as the light,
and your justice as the noonday." – Psalm 37:5-6 (ESV)
The information presented was quite thought provoking, and it led our group to branch out and discuss a variety of tangential topics about seeking Your presence, and more thoroughly involving You in our daily lives.  It was a truly enlightening and Blessed evening Father, and I thank You for bringing us together to share in that fellowship.
Heavenly Father,
We thank You Lord, for being so powerfully present in Your Children's lives.  We thirst for You Father, and pray that You will continue to fill us, that we may more fully quench our need for Your presence each day.
In Jesus' Name we pray,
Amen.
~Phather Phil
Pin It