Oct 4, 2011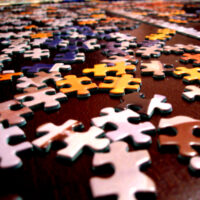 Dear Lord; Happy Tuesday Father!
Over the last year or so Father, I've come across a seemingly increasing number of people who are going through some form of hardship or another.  Be it a job lost, financial upset, serious illness, or relationship crisis, personal stress very much appears to be on the rise.  Recently, I was speaking with a young lady going through such a trial, and she popped out a statement that I've heard many, many times…
"Well, I know God won't give me more than I can handle."
Now Lord, to be fair, for many years I used this misquote of 1st Corinthians 10:13 myself.  It was a phrase many of us heard growing up, and it wasn't until my "edge" was reached that I understood the misinterpretation in full.  The actual Scripture reads:
"No temptation has overtaken you except what is common to mankind. And God is faithful; he will not let you be tempted beyond what you can bear. But when you are tempted, he will also provide a way out so that you can endure it." – 1 Corinthians 10:13 (NIV)
As the Apostle Paul wrote here, our earthly temptations (or trials) are not unique to us as individuals; others have endured similar turmoil.  And while we may feel sometimes that our burdens are beyond our ability to adapt, that's when Your strength comes to bear.
Are we given more than we can handle?  Absolutely!  Thankfully, God's grace fills that gap like a puzzle piece.
Through our trials, our struggles and our pain, You temper and stretch our spirits Father.  However, when we find that point where our earthly tolerance wavers, Your strength eagerly awaits our call.  As Paul so aptly noted, when we face temptation or trial You always provide a way out so that we can endure… Right into Your arms!
…Where there is no pain… no suffering… only the divine love and protection of a Father for his child.
Heavenly Father,
We thank You for Your ever-faithful presence in our lives.  In those times when our lives seem to spiral beyond our capability to contain them, please bring us those gentle, calming assurances that Your love transcends our pain, and that in Your embrace we are truly safe.
In Jesus' Name we pray,
Amen.
~Phather Phil