Sep 28, 2011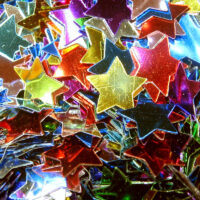 Dear Lord; Happy Wednesday Father!
Well Father, today marks a milestone for PhatherPhil.org.  This post is the 300th "email to God" that I've shared with the world.  It's been a wonderful journey so far Lord, and I feel truly Blessed to have been guided down this path with You.
Along with strengthening my bond to You Father, this site has also brought another wonderful and unexpected Blessing to my life as well; it's connected me to an Internet fellowship of believers, many of which I've come to regard as valued friends.  Without their daily encouragement, postings on their blogs that teach and inspire their readers, and their kind thoughts and prayers, PhatherPhil.org would not have come this far.  Therefore, to celebrate this happy event Father, I'd like to give thanks to some of these wonderful people.
Jenifer at "~Sweet Blessings~" : Jenifer; you're a wonderfully sweet and tender soul; a true Child of God in every way.  Your posts each day bring a smile to my face, and never fail to inspire me.  Thank you.
Lisa at "A Moment With God" : Lisa; I've learned so much from your posts, and from your friendship.  You find messages in Scripture that make me reach deeper, and I'm Blessed each day by your efforts.  Thank you.
Jean at "Healthy Spirituality" : Jean; Reading your site dear lady, I often feel as though I'm sitting quietly with you having coffee.  Your beautiful spirit comes through in every post, and you raise questions that expand my mind, and make my heart reach for truth.  Thank you.
Allison at "Beautiful in Him" : Allison; Your energy for the Lord is infectious!  Your posts expose a beautifully vibrant heart, and your love of Christ shows through in every article.  You've inspired me in many ways through your writing and your service to others, and for that I thank you.
Kelli and Heidi at "Mothers On Mission" : Ladies; Although your site is geared towards women, I've gained so much inspirations from reading your posts.  And even though I'm not your "target reader" 🙂 , you've always encouraged me and kindly included me in the discussions.  Thank you.
Eileen at "The Scenic Route" : Eileen; I think Eileen, you're one of the most insightful people I've had the pleasure of knowing.  You see God's messages in everyday life with wondrous clarity, and relay them to your readers in eloquent fashion.  You have a beautiful heart, and I thank you for sharing it with us.
Mandy at "Growing with God" : Mandy; I've very much enjoyed watching your Walk with the Lord grow closer in your posts.  You've seen through the clouds of trial, and have emerged into His light.  Thank you for sharing your journey with us.
Alida at "Blackpurl's Knitpickings… An Expat Journal" : Alida; Through your photos, your postings and your comments here, I've gained wonderful insight into what it means to truly spend your life in God's service.  I seldom leave your site without a smile, and thank you for Blessing us with your work.
Kandi at "Get Out of the Boat" : Kandi; Your words are so transparently lovely Kandi… You bring your heart to every post, and I truly believe God smiles when you're writing.  Thank you for letting us peek in on your kind spirit, and for sharing your Walk with us.
Elaine at "Peace for the Journey" : Elaine; You have a stalwart energy, and a thirst for knowing Christ's heart that I rarely see.  Your writing is simply elegant, and I've gained much perspective and inspiration in sharing your journey this past year.  Thank you.
Debra at "Pure and Simple" : Debra; You have a purity to your writing Debra, which I feel makes God's presence shine in your postings.  Your tender heart is always apparent, but is aligned closely with a wisdom that educates and inspires as well.  Thank you.
Christopher at "The Happy Seeker" : Christopher; My dear friend, I feel a remarkable connection between us, even though we've never actually met.  You have a beautiful energy that you share with your readers, and you bring that presence to everything you write.  "Meeting" you has truly been a Blessing.  Thank you.
And there are so many more Father… Blessed souls, all of them.
Heavenly Father,
Thank you Lord, for connecting me with such a wonderful fellowship of believers, and for Blessing this ministry as You have.  I look forward to many, many more conversations.  🙂
In Jesus' Name we pray,
Amen.
~Phather Phil