Sep 23, 2011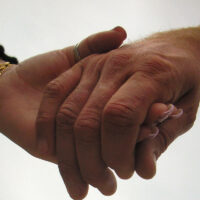 Dear Lord; Happy Friday Father!
Forgiveness Father, is sometimes very difficult.
This past week, I've had several instances where people have gone out of their way to say or do something they know will upset me.  Now, generally Father, I'm able to filter out that sort of thing and place my ire in Your hands.  This week however, my thresholds have been a bit lower than usual, and I've found myself holding on to those negative feelings instead of releasing them to Your care.
And then today, I reread the Scripture selections You placed on my heart to share on Facebook this week…
Tuesday : "We love because he first loved us. Whoever claims to love God yet hates a brother or sister is a liar. For whoever does not love their brother and sister, whom they have seen, cannot love God, whom they have not seen. And he has given us this command: Anyone who loves God must also love their brother and sister." – 1 John 4:19-21 (NIV)

Wednesday : "A new command I give you: Love one another. As I have loved you, so you must love one another. By this everyone will know that you are my disciples, if you love one another." – John 13:34-35 (NIV)

Thursday : "Humble yourselves, therefore, under God's mighty hand, that he may lift you up in due time. Cast all your anxiety on him because he cares for you.

Be alert and of sober mind. Your enemy the devil prowls around like a roaring lion looking for someone to devour. Resist him, standing firm in the faith, because you know that the family of believers throughout the world is undergoing the same kind of sufferings." – 1 Peter 5:6-9 (NIV)
I usually feel that You give me these verses each day to help others in their Walks Lord, but I think this time You were talking to me as well.
Jesus gave us two very powerful commands to follow, above all else;
Jesus replied: "'Love the Lord your God with all your heart and with all your soul and with all your mind. This is the first and greatest commandment. And the second is like it: 'Love your neighbor as yourself. All the Law and the Prophets hang on these two commandments." – Matthew 22:37-40 (NIV)
In those verses this week, you were reminding me the importance of the second part to that teaching…
"Love your neighbor as yourself."
In my weakened state, I allowed the enemy to use those moments of pain to gain a foothold inside my heart, temporarily blinding me to the fact that we are all brothers and sisters in Christ; even those who still need to find You Lord.  The "roaring lion" had fresh meat for a few days, but no longer.
Thank You for the reminders Lord.
Heavenly Father,
I thank You for Your gentle guidance when I waver from Your path.  Fill me with Your divine presence, and help me see others through Your eyes, that I may cast aside my earthly notions and recognize Your Blessings in us all.
In Jesus' Name we pray,
Amen.
~Phather Phil