Sep 8, 2011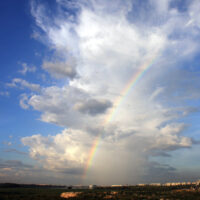 Dear Lord; Happy Thankful Thursday Father!
Once again Father, we come to the Thankful Thursday edition of PhatherPhil.org.  In addition to adding to my continuing list of Blessings, I'm also pleased to have "passed on" this tradition to Lindsay over at The Evatt's Beautiful Mess.  She writes a wonderfully fun, devotional blog and it's always a Blessing to read it.  Today's her first Thankful Thursday post, and hopefully it's just the beginning of many to come!
And now Lord, on to my list!  This week, I've been especially thankful for:
241. The patience shown by friends.
242. The sun streaming through the clouds as a gentle rain falls… Absolutely beautiful.
243. The beauty of a rainbow following a rain shower.
244. Jonathan starting Youth Group (called the Jesus Freaks…:-) ) at church this week.
245. The opportunity to introduce some good friends to our church this past weekend.
246. Being invited to become members to Ewell's St. Paul UMC, and signing the Covenant last Sunday.
247. A final report from the Pediatric Dermatologist that Jonathan's moles aren't LCH related.
248. Sharing a game of Scrabble on Facebook with friends.
249. Having a wonderfully diverse, caring and supportive group of friends.
250. Being given the opportunity to redesign and implement Ewell's St. Paul UMC's web site.
251. A successful surprise birthday party we threw for a good friend at our house.
252. Cherry Coke.
253. The power and flexibility of the step outside my "comfort zone" in ministering to others.
255. The overwhelming sense of Your presence I feel after taking Holy Communion.
Such wonderful gifts You grace us with each day Father…
Heavenly Father, I thank and praise You for the multitude of Blessings You bestow on us each day; both those that light up the Heavens in glory, and those which grace us in relative silence.  We are truly Blessed!
In Jesus' Name we pray,
Amen.
~Phather Phil