Aug 16, 2011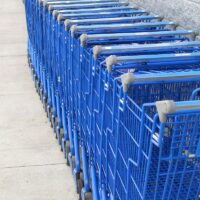 Dear Lord; Happy Tuesday Father!
First off Father, I want to raise Kim Miller up in prayer to You once again.  Her powerful testimony in the video I linked to in yesterday's post has very much been in my thoughts, and continues to inspire further introspection of my own Faith.  Lord, please grant Kim Your peace, Your comfort and if it be Your Will, Your healing that she may continue to know Your abundant presence in her life.
Today Father, I'd like to discuss manners and courtesy, or more specifically the lack of them I've been seeing as of late.
During a quick trip at lunchtime over to the nearby WalMart, I was confronted a number of times with blatant examples of selfishness, disrespect and a general disinterest in the feelings of others.  Simple little things like:
In a busy parking lot, taking up two full spaces to avoid being parked next to…
People not looking behind them when going through a door to see if someone is following close by before letting it swing closed…
Shoppers standing in the middle of a narrow aisle chatting while people and carts sit behind them waiting for them to move…
Parents allowing their young children to run around unsupervised and then getting upset when other people question them…
Leaving shopping carts rolling all over the parking lot when there are plenty of cart return stations nearby…
It's very frustrating to witness such widespread disregard Father.  And while I certainly ran into several smiling, courteous folks today as well, they were somehow less obvious than those whose focus was very much on themselves.  Now, I've absolutely been guilty of allowing my mood to sidetrack my manners now and again Lord… I believe we all have.  This begs the question; how would You have us act towards others so as to best reflect Your Love?
With forgiveness and compassion:
"Be kind and compassionate to one another, forgiving each other, just as in Christ God forgave you." – Ephesians 4:32 (NIV)
With thought and empathy:
"Do to others as you would have them do to you." – Luke 6:31 (NIV)
In the spirit of peace and unity:
"Let us therefore make every effort to do what leads to peace and to mutual edification." – Romans 14:19 (NIV)
With humility:
"For all those who exalt themselves will be humbled, and those who humble themselves will be exalted." – Luke 14:11 (NIV)
And with Love:
"For the entire law is fulfilled in keeping this one command: "Love your neighbor as yourself."" – Galatians 5:14 (NIV)
It's so handy having Your Instruction Manual Father.  🙂
Heavenly Father, please help guide our words and actions to best exemplify the behavior that You desire of us.  Make Your light visible through our lives, so that others may witness the peace and compassion of Your presence in us.
In Jesus' Name we pray,
Amen.
~Phather Phil