Nov 23, 2011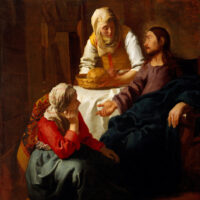 Dear Lord; Happy Wednesday Father!
Tomorrow Lord, as You're well aware, here in the United States we'll be gathering together with family and friends to celebrate Thanksgiving.  And while I absolutely love having that time to focus on togetherness and gratitude Father, for many this Holiday takes on an entirely different focus…
Details.
Instead of dwelling in Your many Blessings and focusing on spending time with those we love Lord, for some the Holidays become a flurry of "to-do lists", household chores and shopping trips.  And while some preparations are certainly necessary to host our festive gatherings, it's very easy to allow the myriad of details to overwhelm us, and to take our eyes off the One who made it possible.
And while getting ready for work this morning Father, You decided I needed a reminder.
Standing in the shower, my mind wandered; so many things to do before tomorrow… I started a mental list, carefully going over all the details of the day ahead, and trying to work out exactly how we'd complete everything in the time we had remaining…
"Like Martha and Mary…" You whispered.
Ouch!
"Now as they went on their way, Jesus entered a village. And a woman named Martha welcomed him into her house. And she had a sister called Mary, who sat at the Lord's feet and listened to his teaching. But Martha was distracted with much serving. And she went up to him and said, "Lord, do you not care that my sister has left me to serve alone? Tell her then to help me." But the Lord answered her, "Martha, Martha, you are anxious and troubled about many things, but one thing is necessary. Mary has chosen the good portion, which will not be taken away from her."" – Luke 10:38-42 (ESV)
Okay, okay… Point taken Father.  🙂
It's not about the house being spotless…
It's not about mountains of carefully prepared food…
It's not about a meticulously laid-out table…
It's not about being the perfect host or hostess…
It's not about the details…
It's about You Lord… All about You.
Heavenly Father,
We thank You Lord, for the multitude of Blessings You grace our lives with each day.  As we prepare for the upcoming Holidays Father, please help focus our hearts to see past the tasks at hand, and prepare a spot at Jesus' feet where we might rest, and listen…
In Jesus' name we pray,
Amen.
~Phather Phil