Dec 21, 2012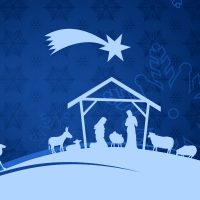 Dear Lord; Happy Friday Father!
It seems Father, that each Christmas season becomes more hectic and hurried than the last;
Decorating to do…
Gatherings to attend…
Presents to buy…
And cookies to bake.
And although all of these things may, in their own way, help to bring the spirit of this Holy season more alive for us, if we allow them to they can also lead us astray from the pilgrimage our hearts are drawn to make this time of year…
To kneel at the side of the manger; to bathe in the peace that only the arrival of our Savior can bring.
Peace… To gain a stillness of heart and mind so that we may experience the rest our spirits long for…
"Come to me, all who labor and are heavy laden, and I will give you rest. Take my yoke upon you, and learn from me, for I am gentle and lowly in heart, and you will find rest for your souls. For my yoke is easy, and my burden is light."" – Matthew 11:28-30 (ESV)
You came to free us Lord; to refresh us and release us from those worldly burdens and sins that attempt to pull us from You.
"For God so loved the world, that he gave his only Son…" John 3:16a (ESV)
To give us that peace… To give us rest…
So Father, as Christmas draws ever nearer and "last minute" preparations vie for our attention, help us find that stillness; to come along side that humble manger and embrace Your love for us…
To rest in Your presence Lord…
And truly find peace.
Amen.
~Phather Phil
Pin It