Feb 7, 2012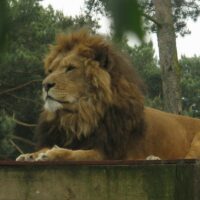 Dear Lord; Happy Tuesday Father!
When I was little, one of my favorite Bible stories was that of Daniel in the lion's den.  The Children's Bible I read it from contained some beautiful illustrations and a wonderful translation of Daniel's "adventure", and I found myself returning to it often.
Yesterday Lord, my morning Scripture readings led me once again to the book of Daniel, chapter 6:
"Then the king commanded, and Daniel was brought and cast into the den of lions. The king declared to Daniel, "May your God, whom you serve continually, deliver you!" And a stone was brought and laid on the mouth of the den, and the king sealed it with his own signet and with the signet of his lords, that nothing might be changed concerning Daniel. Then the king went to his palace and spent the night fasting; no diversions were brought to him, and sleep fled from him.

Then, at break of day, the king arose and went in haste to the den of lions. As he came near to the den where Daniel was, he cried out in a tone of anguish. The king declared to Daniel, "O Daniel, servant of the living God, has your God, whom you serve continually, been able to deliver you from the lions?" Then Daniel said to the king, "O king, live forever! My God sent his angel and shut the lions' mouths, and they have not harmed me, because I was found blameless before him; and also before you, O king, I have done no harm." Then the king was exceedingly glad, and commanded that Daniel be taken up out of the den. So Daniel was taken up out of the den, and no kind of harm was found on him, because he had trusted in his God." – Daniel 6:16-23 (ESV)
Now Father, when I read this as a young boy, the amazement this story inspired was mostly directed at the Angel's presence in that den; Your benevolent power protecting Daniel's life.  When I read the passage now however, I'm struck by the powerful truth of Daniel's trial in that den…
When we lay our faith and trust in You, You'll always be by our side.
I know I'll be beset with trouble in my life Lord
And things may not go the way I expect or desire,
But I give myself to You Father… wholly and faithfully
And lay my life at Your tender mercies.
Thank You Lord,
For protecting me from the lions.
Amen.
~Phather Phil
Pin It